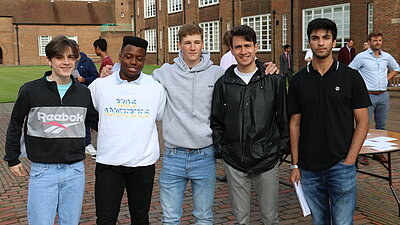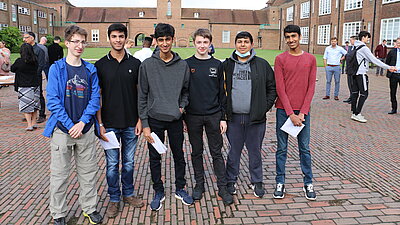 Cumulative Percentages

| Result | A* | A | B | C | D |
| --- | --- | --- | --- | --- | --- |
| 2021 | 58.7 | 86.5 | 97.0 | 99.6 | 100 |
| | | | | | |
We are delighted to celebrate a year of exceptional achievement.
Formal exams were not able to go ahead, for the second year in a row. This year, the school was required to give each pupil a Teacher Assessed Grade (TAG) for each subject. The final grade was determined from a basket of evidence provided by school assessments taken under controlled conditions. We were extremely rigorous in applying the strict criteria given by the Department for Education. The exam boards, after scrutiny, accepted all of our TAGs. Therefore, we can be confident that the grades awarded were thoroughly deserved and represent an accurate final assessment of each pupil's performance in the two year A Level or Pre-U course.
Supported by seamless provision of on-line learning (and perhaps by severely curtailed social lives), many boys achieved outstandingly well. More than 58% of all A Level grades awarded were A*; more than 86% of all A Level grades awarded were A* or A.
By any standards, we have much to celebrate. 16 boys received 4 A*s; 54 boys were awarded 3 or more A*s; 85 boys got 2 or more A*s; 118 boys were given 1 A*.
Applications for university have gone very smoothly. The vast majority have progressed to their preferred university. We have placed them in the most competitive and coveted institutions and courses; 11 will begin their studies at Oxford or Cambridge University.
Congratulations to pupils and staff, who have worked so hard to bring home these outstanding results!