Register for Merchant Taylors' Senior School

Registration deadlines & Examination dates
Early registration is advised
11+ Exam: Wednesday 7th December 2022 (year 6) Register by 31st October 2022 (year 6)
13+ Exam: Saturday 3rd December 2022 (year 6) Register by 30th June 2022 (year 5)
11+ & 16+: All Bursary & Subject Scholarship applications must be received by 30th September the year before entry
13+: All Bursary applications must be received by 30th September of year 6
All Subject Scholarship applications must be received by 30th September the year before entry (year 8)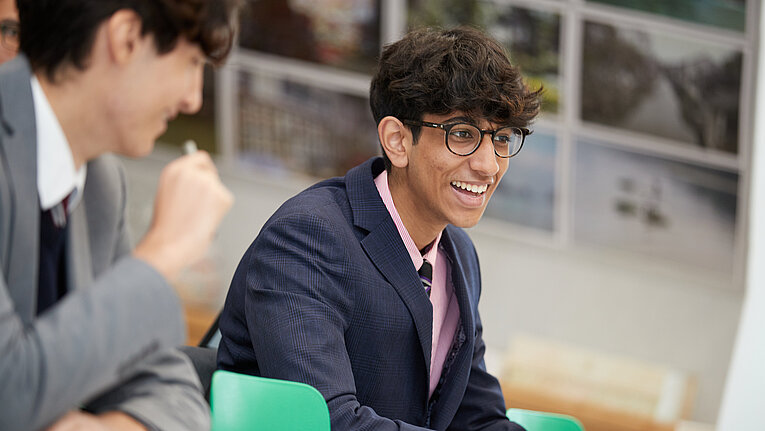 Entry to the School is at 11+ (Year 7), 13+ (Year 9) and 16+ (Year 12/Sixth Form).
The School's Governors determine its admissions policy, while the Head Master is responsible for securing the admission of pupils. Only he has the authority to admit pupils to the School. The Head Master retains the responsibility for defining the selection criteria and making the final selection based on recommendations from senior members of the academic faculty with whom he shares interviewing and aspects of assessment and testing.
All candidates for admission are treated equally, irrespective of their, or their parents', race, colour, language, religion, political or other opinion, national or social origin, association with a national minority, orientation, property, birth or other status. We comply with our legal and moral responsibilities under the Disability Discrimination Act 1995 (as amended by the Special Educational Needs and Disability Act 2001 and the Equality Act, 2010).
Indicate on the registration form if your child has a disability or a specific learning difficult so that we can make reasonable adjustments to our admissions procedures to ensure that your son is not placed at a disadvantage compared to other candidates. We need to be aware of any known disability or special educational need that may affect your son's ability to take full advantage of the education we provide. Should the situation change at any point in the process, you must update the Admissions Officer, Gregg McCann by phone or mail before accepting the offer of a place.
If you've got any questions, want to discuss any aspect of our policies, or read full policy documents click here or contact us via the Admissions Officer, Gregg McCann.

What criteria do Merchant Taylors' use for admissions at 11+, 13+ and 16+?
Merchant Taylors' selects pupils on merit. We base our decision on the breadth of a candidate's talents and interests and attitude, as well as academic aptitude.