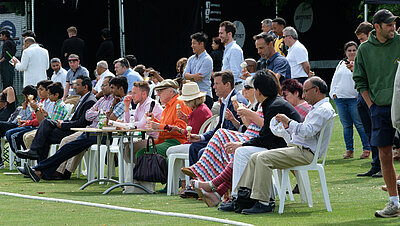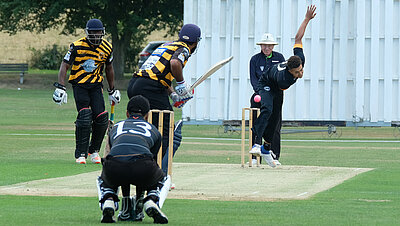 Longstops is the parent/staff body that supports cricket at Merchant Taylors' School. We aim to make the cricket experience at school more enjoyable for both boys and parents by building a community that supports our players at matches and occasionally raises funds through social events to help improve their tours. Longstops also fields its own cricket team of both current and past parents. This offers an opportunity to socialise and enjoy some cricket, either as a player or as a spectator.
Events: We hold a major event each year during the summer term, which is very well attended by families and staff. During the past few years, we have had cricket stars attend our events as special guests. In 2016, we were privileged to be joined by ex-England cricket captain Michael Atherton and in 2017 we hosted the inaugural MTS 1st XI vs Lashings cricket match with a marquee lunch for over two hundred guests. In 2019 we held the inaugural "Awards Night", with a jazz band, three course meal and award presentations for the best players in each team. Unfortunately, COVID-19 has prevented us from pursuing our summer schedule of activities, however we plan to be back in action for the 2021 season.
Longstops 'parents' Cricket Team The team meets for regular cricket nets at school and plays a number of games against sides, such as the teachers' 'Trumpers' team and 'Old Merchant Taylors'. This is open for any parent to join, regardless of skill or experience, and we are always looking for new members to join.
Our Support The money raised at our events is used to support cricket at MTS. In 2017 we contributed to the Under 15 tour of Spain, and the new cricket nets. In 2019 we contributed to a number of activities including specialist coaching, support for cricket tours and equipment. In 2020 our main focus will be on supporting the development and coaching efforts of the MTS Cricket staff.
Joining and How to Help Please do consider joining our Committee as more help is always welcome. Just let us have your email address and we will keep you updated on events and how to get involved. Your Longstops year representative will be in contact with more information about Longstops.
longstops@mtsn.org.uk