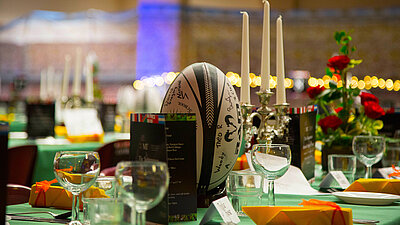 Scrummers' is a voluntary parent committee that raises funds to support rugby at MTS. Monies raised through the various events go towards subsidising the major tours and also contribute towards the provision of extra kit, professional coaching sessions and pre-season training.
Every three years we support an international tour which last saw 72 boys playing across venues in the USA and Canada in 2019. We are planning our next tour to Japan in 2022 which promises to be a fantastic opportunity for the boys to expand their horizons and enjoy friendships that will last a lifetime.
Our main fundraising event is the annual Scrummers' Dinner Dance which takes place at the end of an intense 'rugby week'. This is a wonderful black tie event with a 4 course meal served by the senior rugby team. We have an auction, bar, raffles and dancing to a live band. The event provides a great opportunity to meet other parents and enjoy a well-deserved fun evening out. Tickets are available via the events page on the school website - everyone is welcome!
Joining Scrummers' couldn't be easier - my contact details are below, so please do get in contact, and you too can become involved in making rugby a better experience for all the boys. We're a friendly group and whether or not you are a great rugby player makes little difference. We simply want to welcome people who enjoy the sport and want to help our boys get the most out of their rugby experiences at MTS.
We bring the same camaraderie that characterises the great game of rugby to all our endeavours and guarantee that your involvement, will be appreciated by the committee, MTS and our boys.
Do join us at the events or helping out as part of the committee. Please feel free to contact us at scrummers@mtsn.org.uk or find us on the rugby touchline!