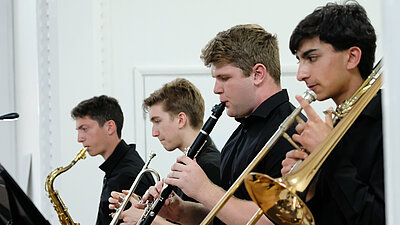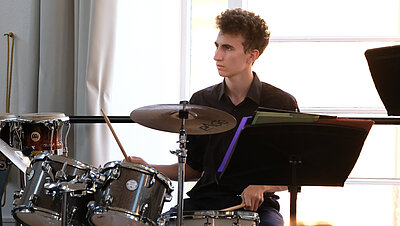 Serenaders'
'Serious Music, Serious Fun'
A very warm welcome to all musicians, music lovers, parents, pupils, and friends.
Merchant Taylors' School has a vibrant music tradition and the Serenaders' Committee are passionate supporters of the Music Department. If you enjoy attending concerts both formal and informal, are keen to support the Music Department as they provide sensational music opportunities for our boys or would like to meet parents of boys active in the Music Department, then the Serenaders' is for you! We are a cheerful group of volunteer parents who help to promote music in the school, organise a couple of annual social events which raise funds for equipment and assist the Music Department when required.
In normal circumstances, we organise two informal social events each year, Quiz Night in the spring term and Jazz Night at the end of the summer term.
Quiz Night is a great opportunity to meet other parents, make up a table from your year or join a group on the night, many make it an annual event! Pit your wits against our own "Chaser" with a general knowledge quiz, feast on a delicious curry and enjoy musical entertainment provided by the school Dixieland Band.
Jazz Night at the end of the summer term is one of the most popular music evenings in the calendar. It's an informal occasion with great entertainment provided by the Jazz bands of Merchant Taylors' and St Helen's schools while we enjoy a glass or two of Pimms and a delicious buffet. It is a great celebration as we say goodbye to our leavers and mark the end of the musical calendar.
In 2018/2019 we used funds raised at our events to buy new piano stools and most recently a brand new Vibraphone which will be used by boys in percussion ensembles, concert and jazz ensembles and also by GCSE and A level students.
Parents Choir: The Parents' Choir is a choir for parents with sons at Merchant Taylors' or daughters at St Helen's, and their friends. Such is its appeal that many parents of alumni continue to sing in the choir long after their sons have left school! We perform all year round at major school events including the Carol Service in December and the Joint Merchant Taylors' and St Helen's Concert in March. No audition is required. If you enjoy singing, just come along and make new friends. Rehearsals take place on Tuesday evenings at 8pm in the Music Department Recital Hall, beginning after the autumn half term for the Carol Service in the Great Hall in December. Look out for more details in Scissorum.
Concerts and Performances: Early in the autumn term, subject to circumstances, the Serenaders and music staff will host the Music Award Holders' Concert, held in the Recital Hall. This is always a wonderful concert featuring the breadth of musical ability from our 2020 music award holders.
Every term there are regular informal chamber music concerts in the Recital Hall at which boys perform individually and with their ensembles from guitar, percussion ensemble or in string quartets and trios, wind quintet and clarinet quartet.
There is also a large-scale musical event every term. The Autumn Concert, the Joint Merchant Taylors and St Helens Concert and the Spring Spectacular are all held in the Great Hall and feature the MTs large ensembles - Symphony Orchestras, Sinfonia, Jazz Band, Concert Band, Dixieland Band, Merchants of Groove, Taylors' Brass, Concert band, Swing Band not forgetting the School Choir, the Chamber Choir and vocal group. Every year, there is a school musical presented by the boys of MTS and the St Helens girls.
To register and book tickets for music events please visit the school website at www.mtsn.org.uk/events/ We are very proud to support all this amazing music-making and we look forward to meeting you in person.