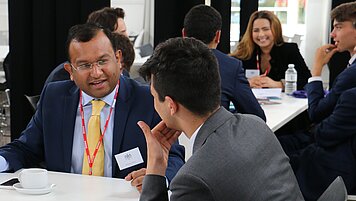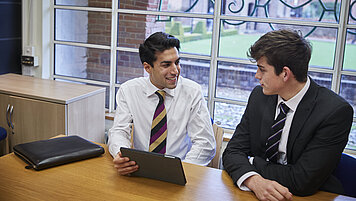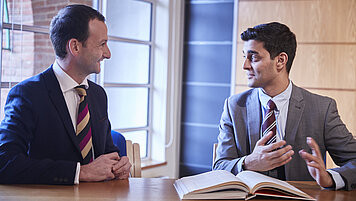 Merchant Taylors' School Careers
MTS is committed to providing the highest quality of careers guidance for all pupils. As part of this on-going commitment, we are currently in the process of applying for recognition that our programme meets the national validation of excellence available for England, the Quality in Careers Standard (QiCS), through the Investor in Careers award.
The Careers Department has a three-person team which is housed in a purpose-built facility adjacent to Reception, but most importantly at the heart of the School. The full-time Head of Department is assisted by two colleagues, one of whom takes a lead in organising specific events, the other oversees Young Enterprise and Work Experience.
The role of the department is to help all pupils build a solid foundation for their future careers. By helping them to understand their aptitudes and abilities, skills and interests we aim to support the transition from school to university, apprenticeships and into the working world. Part of the whole school's commitment to encouraging breadth of opportunity and motivation to follow their passions, we aim to translate pupils' time at MTS into education and career decisions that will be rewarded with fulfilment and success.
Particular strengths of the Department include.
Careers programme involves all boys from Year 7 to Year 13.
Strong links with OMTs at University and beyond who regularly come back to their "Alma Mater" to share experiences and offer advice.
Personal careers interviews available to all boys on request.
Careers activities incorporated into core curriculum and co-curricular programmes.
Integration with pastoral system to provide personalised support and guidance throughout boys' career journey through school.
Close ties with Sixth Form to align university/other destinations after MTS with career plans.
Dedicated work experience coordinator helps support boys to find relevant opportunities across a wide range of industry sectors.
All boys plus their parents have individual meetings with Careers staff in Year 11 to review Morrisby profile feedback and review A level/career plans.
Close contacts with alumni and other employers provide opportunities for careers insights and advice through wide variety of events and meetings.
Participation in Enterprise events at each school stage culminating in setting up their own businesses to compete in national Young Enterprise programme in Year 12.
Each year group has a Careers Programme which is modified and updated annually as necessary in the light of pupil feedback.
The school's Careers Education, Information, Advice & Guidance (CEIAG) policy can be found here: