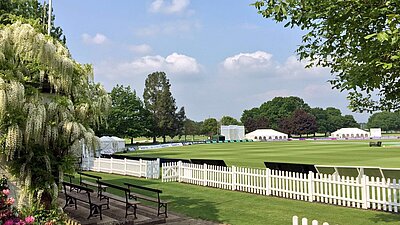 Cricket at Merchant Taylors' is exceptionally strong.
Originally situated in the City of London, cricket was first played at the school in 1819, and the first inter-school matches (against St. Paul's and Charterhouse) were played at The Oval in the 1840s. In 1933 the school relocated to Sandy Lodge, since when cricket has continued to thrive. In 2017 the school won the Under 17 National Schools Cup, and in the last five years we have twice qualified for the National Under 18 T20 Finals Day at Arundel as South East of England Champions.
Since 2012 Middlesex have regularly played 1st Class fixtures at the school. This season Middlesex hosted Worcestershire in the LV 4 Day County Championship. Each year we support Middlesex County Cricket Club's pre-season on grass from March in a purpose build marquee which our boys get to train on in the lead up to the outdoor season. The relationship between Middlesex County Cricket Club and The School has gone from strength to strength and we are very proud to call ourselves The Home of Middlesex Youth Cricket.
Our facilities are recognised by international sides too. We hosted India in 2018 and during the 2019 Summer we hosted Sri Lanka, England and Australia for World Cup preparations at the school. Within the last 10 years we have also hosted Ireland and South Africa too!
We currently run 18 competitive sides throughout the school and our pupils enjoy excellent cricket facilities. We are blessed with having 12 cricket squares, all of excellent quality, which is the most of any other schools in England. Our pupils get unrivalled opportunities to hone their skills in match and centre wicket practice. We also have 10 artificial nets and a bank of 16 grass nets to train on throughout the summer term.
At Merchant Taylors' we are proud to boast 45 County Cricketers and have strong links with a number of county cricket clubs. Our cricketers undertake a varied programme that includes strength and conditioning in our well-equipped gym, indoor net sessions in our indoor cricket school as well as fielding and match play in our sports hall. It's a comprehensive winter training programme which is set to transform with the news of the Julian Hill Indoor Cricket Centre set to open its doors in January 2024:
In recent years there have been cricket tours to Sri Lanka, South Africa, Grenada and Barbados and in 2023 we will be taking 40 lucky Year 10 pupils to Dubai and Abu Dhabi in Easter and in the summer, we will be touring Antigua and Barbados with 24 Year 11, 12 and 13 pupils too!