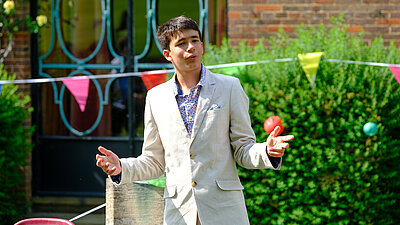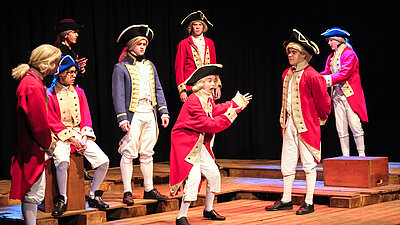 Macbeth YouTube premiere – Friday 3rd December
"Why then, I'll fit you", Thomas Kyd, OMT, The Spanish Tragedy
Drama has a great tradition at MTS, the school of Thomas Kyd, John Webster and James Shirley. There are many ways in which you can become involved with Drama at Merchant Taylors' School both as a curriculum subject and as an extra-curricular activity.
As an extra-curricular activity, you have opportunities throughout the year to act, direct or work backstage.
Every year there are two major productions, one usually in the Great Hall (in alternate years a musical) and one in the Studio Theatre. In recent years, we have mounted productions of large shows such as FAME, the Musical, Les Misérables, Guys and Dolls, Grease and more challenging drama including Enron, Macbeth, Our Country's Good, Loot, The Devils, The Club and Edward II. Shows are often put on in conjunction with girls from St. Helen's.
In the Spring Term, boys in the fourths and below are eligible for the Junior Production in the Studio Theatre. Recent productions include Lord of the Flies, Private Peaceful, Our Day Out, The Tempest, Kes and The Wind in the Willows.
In recent years, boys across the school have enjoyed participating in competitions including the House Drama Competition and the Duologues Competition.
There are also opportunities for boys to learn about Stage Lighting and Sound in weekly Technical Theatre Clubs.
Boys enjoy study trips to The Globe and National Theatre and have opportunities to take part in workshops run by practitioners and companies in school. They also enjoy theatre trips and visits.
Boys are supported in applications for the National Youth Theatre and Drama Schools. For the fourth year running, MTS boys have secured places in this prestigious company. A member of the current A Level Theatre Studies cohort has been offered a place at the Royal Central School of Speech and Drama.