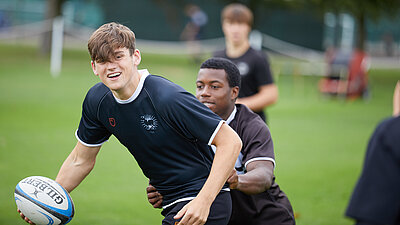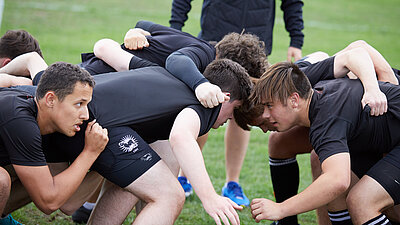 Rugby for all abilities
MTS Rugby allows boys to develop their skills through the enjoyment of playing. With 21 rugby teams, MTS provides every boy the opportunity to represent the school, build connections and have fantastic shared experiences.
Outstanding Experiences
Our Rugby programme is built upon providing numerous opportunities to create lifelong memories, not least through our incredible Rugby Week. We are the only school in the country to offer such an event, whereby every player in the school plays a fixture under floodlights from Monday to Friday, culminating with the 1st XV Friday Night Lights game. Rugby week concludes with Scrummers' Ball which is the marquee event for our Scrummers' parent support group and an event not to be missed!
In recent time, we have created Taylors' Tens which is an adaptation of the Ready for Rugby touch format. Squads of ten compete under the names of Cove-Smith, Fuller, Baker and Raphael, all OMTs who played for the British and Irish Lions. Our game features bonus points for Kick-to-Score and if you score from inside your own half a 9-point try. A new tradition, Taylors' Tens lives on annually for Junior, U14, U15 and U16 rugby. It is our hope to provide contact and non-contact rugby pathways so that players can find a version that suits them and keeps them engaged with the sport.
At Senior level, we seek to engage the boys through our annual theme, currently 'Bunbu Ryodo'. An exploration of Japanese culture helps to invigorate the boys and provide opportunities to build cohesion and have fun experiences as a group. Launched in 2021-22, Bunbu Ryodo was a great success and has continued on. The phrase itself stands for 'the pen and the sword, in accord' and dates back to Samurai philosophy, providing an accurate reflection of our rugby boys at MTS who have a dual focus on their academics and their sporting achievements.
Touring
In the 2022-23 season, we are delighted to be able to tour again and have two upcoming tours planned. The 4th form (Year 9) will embark on an annual tour at Easter, in 2023 heading to Biarritz. At Senior level, we will tour every three years with the next trip to Canada in July 2024. Every boy is welcome to tour and experience the fun of different national and rugby cultures.
Facilities
At MTS we are incredibly fortunate to have some of the finest school grounds in the country. In recent years we have hosted international age grade fixtures as well as representative matches and visiting international teams.
Academy and DPP Rugby
We have a number of boys involved with Academy, DPP and county rugby for London Irish, Saracens, Middlesex and Hertfordshire. Our closest link is with London Irish, for whom the local DPP site is nearby in Harrow. In 2021-22, we had 15 boys playing Academy and DPP rugby which provides a great opportunity for rugby and personal development. We do our utmost to support and challenge our best players through individual support, 1-2-1 sessions, strength and conditioning sessions and physio support.
Local Clubs
We maintain good relationships with our local community clubs and invite many to participate in Rugby Week. These clubs include Ealing Trailfinders, Chess Valley, Hampstead, Ruislip and Harrow.
Coaching and Refereeing
We have a clear coaching programme that prioritises the long-term development of our boys and provides appropriate challenge according to their ability and experience. MTS also provides opportunities for the boys to lead and coach, particularly working with our Junior Rugby players in the Spring term and coaching teams during Rugby Week. There are also pathways for our boys to develop their refereeing and stay involved with the sport in this capacity.
Results
We publish a full report each week in Scissorum

More results from www.schoolsrugby.co.uk
Read about the Scrummers, our Rugby support group