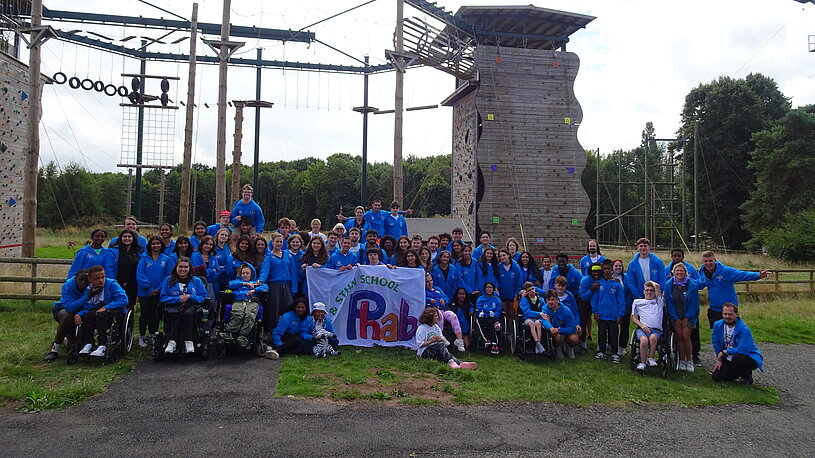 Phab Week is a great school institution.
For over fifty years, more than 20 Sixth formers - working with a student team from St Helen's – have run a weeklong holiday camp providing an incredible experience for 20 young people who experience a range of mental and physical disabilities.
Phab Week provides crucial respite care for local families, as well as an enriching thew lives of all the young people involved through the social interaction and activities they partake in throughout the week. Hosts are paired with Guests and through all the various fun activities they share during the week they can discover what they have in common.
The pupil team play a proactive role in organising the week, most notably through fundraising activities. With the support and sponsorship of the whole school, the Phab Team stage various events during the year to raise the £15,000 needed to run the residential week, with recent highlights including the Phab Revue concert, a marathon walk from Merchant Taylors' to London and ever competitive Phabions League football tournament.
Commencing in summer 2022, Phab Week shifted from using the school grounds to be housed at the Pioneer Centre, Shropshire. This purpose-built residential centre contains a wide range of outdoor activities, with highlights including a fully accessible Zip Wire and Abseil Wall, Raft building complex and a giant inflatable obstacle course.
Powerful friendships develop throughout the week and continue well beyond it. Quantifying the impact of the week is a challenge, but here are just a few of the kind words parents have shared following the most recent Phab Week;
"We just wanted to thank you for giving this opportunity to Lucas. I can't express how much he loved it, and he says it has been the highlight of this year and he keeps going on how much he enjoyed hanging out with the volunteers, doing all activities and basically everything about this trip. As I explained before, Lucas goes to special school and has limited opportunities to hang around " mainstream" neuro typical teenagers and learn / improve his social skills and he so loved being in their company and doing fun things with them. He keeps saying the only bad point about this trip that it didn't last longer and it ended too soon :)."
"WOW! A massive thank you to you both, your members of staff and all the students who took part in the PHAB Activity week."
"Dylan doesn't usually express himself or even talk too much (unless it's to do with Arsenal - you may have noticed that!), but since picking him up yesterday he has continually smiled and given us snippets of what he did this past week."
"The encouragement from everyone has been fabulous and seeing photos and videos of activities that not even I would attempt is incredible."
"All your students are a credit to MTS and St Helens especially Rash and Gui who were kind, caring, encouraging and the perfect young lads to care for Dylan."
"From the bottom of our hearts, thank you. It means the world to us that there are groups that cater for our special kids and gives them the opportunity to do things that they so deserve."