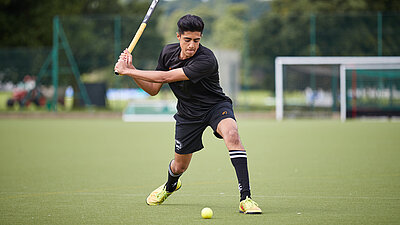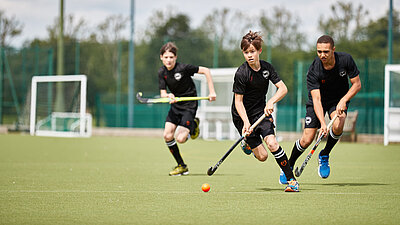 Hockey provides high quality training across all age groups and abilities.
With 25 hockey teams across all year groups, Hockey at MTS provides opportunities for all students at any level. The majority of these boys have never picked up a stick prior to their arrival at School and have thus learnt to play their hockey at MTS.
Our Hockey Programme at MTS aims to offer exciting opportunities to develop as a player and enjoy the game for all levels of performer. Everybody in the hockey programme has the opportunity to represent the school in fixtures and has access to high quality coaching in teaching staff and external hockey coaches. The programme also offers a performance pathway to support students aspiring to play representative Hockey, National league Hockey and Elite level University Hockey.
Throughout the year we offer indoor provision, targeting technical skill development before entering the U18 and U16 England Hockey indoor competitions. In the Summer term, the school runs summer training sessions during games and co-curricular time. The school enters a summer league team into the OMT Men's Summer League and a development team in the OMT Development Summer League.
MTS Sport runs several tours each year. Hockey has a senior tour every 3 years (Rugby & Cricket Tours in the other years). This year we are looking forward to taking the U13 hockey sides to Holland and testing them against some of Europe's strongest sides. This is followed by a tour to South Africa for the Senior squads in July 2023, a brilliant opportunity to represent the school at an international tournament and experience the amazing cultural opportunities and history in South Africa.
Our structure is aimed at providing opportunities for all students to progress as young hockey players, develop strong sporting values and instil a passion for the game that inspires both them and their teammates. Many boys arrive at the school having not played hockey and through our player pathway have gone on to play university and club hockey. The emphasis at junior level is focused on player development through core skill acquisition and small unit play. With the performance pathway and strong club links we also provide an opportunity for high performing players across all year groups aspiring to play at county, regional or national level to access top coaching and training sessions.
Middle and Senior School pupils have the opportunity to gain England Hockey Qualifications in Umpiring and Coaching. The pupils also help organise, officiate and run several hockey initiatives within the school, developing a deeper understanding and respect for the game. As well as passing on their acquired knowledge to our lower school students.
Hockey runs several events for local schools and clubs including The Strikers Cup and Tuesday Hockey League (THL). Both provide smaller primary and prep schools valuable high-quality coaching, allowing them to develop Hockey at their respective schools and across the local community. MTS pupils support these events throughout the year, assisting our team of coaches.
The school enjoys some of the best hockey facilities in the country. The two water-base pitches sit adjacent to one another, with excellent viewing space for spectators and with the proposed Cricket Centre overlooking the main pitch; additional viewing space, changing rooms and video analysis rooms will be available to the hockey provision at school. The facility is also used by OMT Hockey Club who have a brilliant senior and junior section that supports the development of our students outside of school. There are over 80 students from the school that are also part of OMT Hockey Club.
As part of the parent support groups hockey is very fortunate to have the Strikers Hockey support group. They are a dedicated group of parents, passionate about hockey at the school and give up time to host events to raise money for tours, coaching and equipment such as the Strikers Score Board found on the hockey pitch. You can find further information about Strikers' Hockey support group here.
Our responsibility is to every child that wants to play Hockey, to inspire and ensure that they are proud to have played Hockey at MTS.
Results
We publish a full report each week in Scissorum and they can also be found on the School Sports Fixtures and Results site.
Hockey Parking at MTS