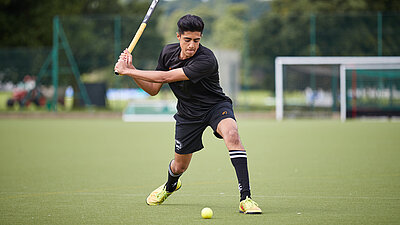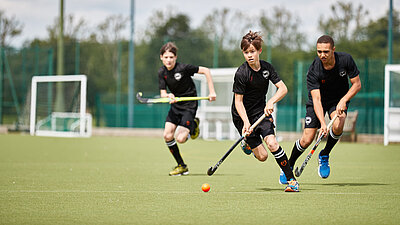 MTS has a long traditional of producing County, Regional and even Nationally rated players.
The majority of these boys had never picked up a stick and have learnt to play their hockey at MTS.
Our Hockey performance programme at MTS aims to support boys aspiring to play representative Hockey, National league Hockey and Elite level University Hockey. Our participation programme also supports pupils who want to play at any level with 18 sides playing matches throughout the year. In the Summer term, the school runs an U 14/U 15 Performance hockey programme that competes in the OMT Men's Summer League each week.
MTSport runs a number of tours each year. Hockey has a senior tour every 3 years (Rugby & Cricket Tour in between) the most recent tour departing for South Africa in 2014. The Ul3 Hockey side tours Holland each year playing against some of Europe's strongest clubs.
Our structure is aimed at producing high performing players across all of the year groups, instilling a passion for the game that inspires both them and their team mates. Many boys arrive at the school having not played hockey and through our player pathway have gone on to play at the highest level. The emphasis at junior level is focused on player development through core skill acquisition and small unit play.
The school boasts some of the best hockey facilities in the country. With two full size water-based surfaces it has been chosen as 1 of 8 England Hockey Junior Performance centres. The facility is also used by OMT hockey club and National League team West Hertfordshire.
Middle and Senior School pupils have the opportunity to gain England Hockey Qualifications in Umpiring and Coaching. The pupils also help organise, officiate and run a number of hockey initiatives within the school, developing a deeper understanding and respect for the game. As well as passing on their acquired knowledge.
Hockey runs a number of events for local schools and clubs including The Strikers Cup and Tuesday Hockey League (THL) which provides smaller prep school valuable coaching on our great pitches allowing them to develop Hockey at their respective schools by our coaching expertise. MTS pupils support these events throughout the year, assisting our team and coaching.
Our responsibility is to every child that wants to play Hockey, to inspire and ensure that they are proud to have played Hockey at MTS.
Hockey
Read about the Strikers' Hockey support group.
Results
We publish a full report each week in Scissorum.