MTS Together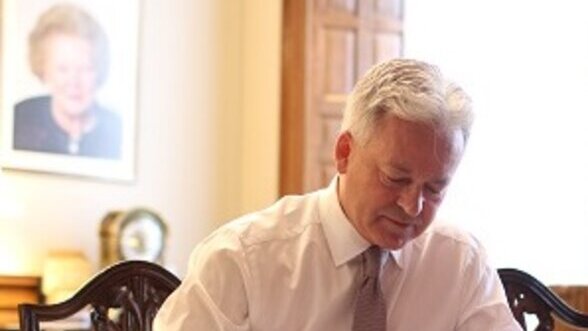 Sir Alan Duncan (KCMG, OMT 1970-1975) returns to MTS
Last night, Sir Alan Duncan (OMT 1970-1975) spoke at the latest MTS Together event. After over 30 years of being at the centre of the Conservative party, he retired from politics at the election of 2019 and has since published his diaries chronicling the turbulent years between the Brexit referendum and the UK exiting the EU.
In the talk, Sir Alan revealed some of his thoughts about the chaos that followed the Brexit vote and the turbulence brought about by three different Prime Ministers in as many years. He reflected on the importance of finding "the right stuff" in leaders and politicians who are interested in serving their constituents.
Lower Sixth form pupils Tom Groves and Abtin Hossein guided the questions. Topics ranged from Dominic Cummings, Brexit, the runway on St Helena and the role of Britain on the global stage.
This is the final MTS Together talk for the Academic year 2020/21 and is available to view on the alumni pages of the school website development.mtsn.org.uk events/mts-together-events
In the next academic year, we are planning talks with Jaskiran Singh Nagi (OMT 2007-2014) currently over wintering with the British Antarctic Survey and Jerry Gore (OMT 1974-1979) currently climbing K2. OMTs are truly going to the ends of the earth!
If you would like to speak at an MTS Together event, we'd love to hear from you. Please contact ebindloss@mtsn.org.uk in the Development Office who would be delighted to help you arrange your online event.
Other News