Robotics World Champions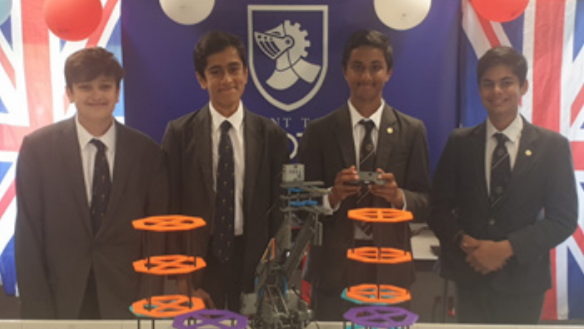 MTS Success in exciting finale
It's been a strange robotics season this year, with the lack of in-person events we, like everyone else, have had to adapt to a new way of working. The 2020-2022 robotics season has been as exciting and nail-biting as ever, but the teams have had to work twice as hard to keep in peak condition ahead of remote tournaments.
If you've been following our updates you'll know that we are immensely proud of three of our Vex IQ teams who earned spots to represent the UK at the Vex Robotics World Championships, which usually take place in the USA. Since qualifying the teams have been fine tuning their machines, tweaking code and have spent many hours working on game strategy and driving skills. They were also interviewed by judges from all over the USA. The many hours spent in the workshops are testament to their focus and determination.
On Saturday 29th May it all came to a head with the World Championship matches taking place. It was an early Saturday start and the teams were excited to show off their skills!
After a tense few matches, final adjustments and a show of nerves of steel our teams were in pole position for a stunning end to a super season.
With just two matches to go team 13765A (MTS_Eclipse) pulled an outstanding programming run backed up by a superb driver skills match where time seemed to stand still and the team pulled out a season-best score to win their division by just one point - the margin could not have been any finer! MTS_Eclipse were crowned MTS team crowned Vex World Championship Division Champions!
They competed with teams from the USA, Canada, Mexico, Australia, Puerto Rico amongst others so it was a truly global event. They are only the second team in UK history to be crowned Division Champions at Worlds, so this is a huge achievement for the team and all of the other teams in the club who pushed them so hard. MTS_Eclipse were also awarded the 'Amaze' award.
Our other teams also put in stellar performances with 13765B pulling out a gutsy performance to make it to 4th in their division and 13765C coming in 27th in their division. Both huge achievements, only the best of the best from around the globe make it this far! Huge congratulations to all our teams for a great season, soon we'll pick up the controllers and start again designing, building and coding for what promises to be an exciting and tough 2021-2022 season!
13765A - MTS_Eclipse
Aaditya Bhandarkar
Praniv Ahluwalia
Niam Patel
Sanchit Sethi
13765B - MTS_ProtoX
Nikhil Mehta
Shayan Nezami
Yash Desai
Alec Meade
Jai Elangovan
Siddarth Shah
Khush Mehta
Nilen Rao
Andrei Antohe
Ron Goh
Shahraiz Siyyid
13765C - MTS_VexFactor
Luca McCormick
Noar Zabergja
Dara Sommerville-Lodhi
George Killigrew
We will shortly be sending out an email to invite those interested in taking part in either the junior or senior league to an introductory meeting. Keep an eye on your inbox if you are interested!
Other News