Science Olympiads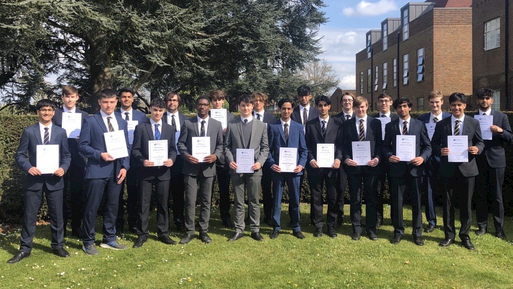 MTS pupils excel in elite Science Competitions
Many congratulations to our young scientists who have excelled in Biology, Chemistry and Physics Olympiads.
The Biology Olympiad is a competition which is well known for extending the principles learnt at A Level, whilst also including material which is not on the specifications, testing students' wider reading and natural talents. The competition is primarily aimed at Upper Sixth students but we afforded the highest achieving Lower Sixth students the opportunity to take part also and they did not disappoint!
In total, the boys received five Bronze Awards (Atharv Meshram, Zayd Ahmed, Aathavan Viyaijen, Sabarish Ganesh and Jude Collings (all L6th)), two Silver Awards (Luke Johnson (L6th) and Lukas Wachtel (U6th)) and one Gold Award (Jay Roopra (L6th)).
In particular, Jay Roopra should be immensely proud, as the prestigious Gold Award places him in the top 5% of entrants nationally, which is an incredible feat, achieving such an accolade a year early!
In March, 19 boys from Lower Sixth took part in a challenging online Physics Competition, where they solved problems beyond the scope of the A Level Physics course so far. They had great success and gained an amazing number of awards: two Gold, ten Silver and seven Bronze. A huge well done to them!
Gold:
Jay Roopra
Aaron Meghani
Silver:
Victor Hardijzer
Kavir Mehta
Thomas Lemon
Philip Bauer
Neil Prabhakar
Ben Cresswell
Alex Jones
George Bindloss
Ayush Tokeria
Anikait Garella
Bronze:
Lawrence Farr
Laurence Cunningham
Enrico Caricati
Zaid Ullah
Jacek Krynski
Dominic Fitkov-Norris
David Kukoyi
Huge congratulations to all for their impressive performances.
Other News